I definitely underestimated this city's traffic and it's nightlife. It has been a week since we got back and the regret remains that we did not stay for more than one and half days in Ho Chi Minh City. However, keeping these  in mind, here are my top things to do in Ho Chi Minh City (HCMC) when you
Do not have much time to explore the city (a day and a half at the maximum), and
Are a vegetarian (which means no fish and its oil, no meat and NO EGGS).
1. Choose your stay in and around the Backpackers area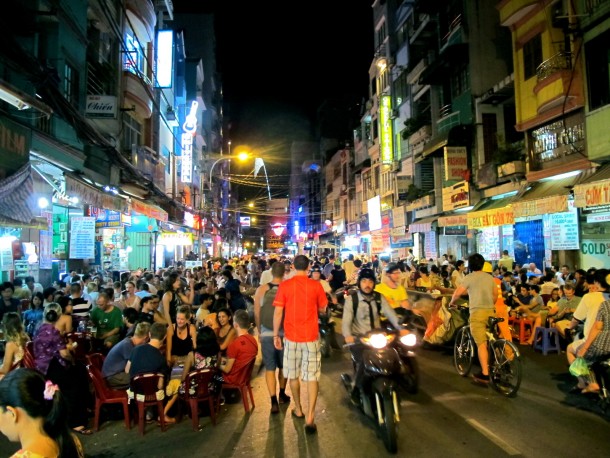 We stayed at the Elios Hotel in HCMC but I was completely unaware of this street and its location. Once we checked in, the receptionist enlightened us that the backpackers street or Pham Ngu Lao Street is right behind the hotel and it is pretty much the best place in town. You will be amazed by the energy level and fun this street has to offer and we went crazy seeing the number of restaurants, people, spas and the buzz all in one place. We were so enthralled by the place that I forgot to take pictures or videos.
Check out our place of stay in HCM: Elios Hotel. They serve their breakfast on the 12th floor which offers a nice city view.
You can check for more properties in HCM for your budget as well.
2. Visit Cu Chi Tunnels without fail
What was to be a happy trip to Cu Chi Tunnels turned out to be a bit emotional for me. To know how the Vietnamese made use of natural resources, recycled available materials and survived the US air strikes in jungles those days is an experience you cannot miss. Oh, and you do get to try the AK47 or M16 guns – for real.
3. Saigon Beer and EON Heli Bar at Level 52

Ho Chi Minh City holds a very special place for me. It's here that I celebrated my entry into the 10th Country. The best way to toast to this occasion was to definitely hit the EON Heli Bar in the Bitexco Financial Tower, watch the city turn from sunlight to colorful lights. You can either directly go to the 52 floor to go to the bar or if you want to have a look around and take some shots of the stunning panoramic city view (sunsets etc), then you need to pay an entry fee and you will be taken to the 49th floor.
4. Night Market instead of the day market at Ben Thanh
I enjoyed the night market more than visiting the shops in Ben Thanh. I was able to talk to many more locals, negotiate more and in general, there is much more space to breathe 🙂
5. Indian Food for Vegetarians
Vietnam is food porn for foodies. Ah well, hang on; Vietnam is food porn for non-vegetarians.
This was a major concern – FOOD for people like me who fall under the vegetarian umbrella. Anywhere and everywhere you turn, all you see is food – that translates to bowls and bowls of noodles with meat broth leaving us with only bread, butter, and fruits. For the first time ever, we had to go hunting for Indian restaurants. Guess what, HCMC has quite a few Indian restaurants who understand what vegetarianism really is ;).
You will find at least two Indian Restaurants serving yummy vegetarian (and non-veg I guess) dishes. I guess seeing the glow on our face after we polished off our food, one of the restaurants (Baba's) even offered us payasam (Kheer) on the house! Much love <3. We went to Baba's Kitchen and Namaste India Restaurant and had no complaints.
If there are more interesting things that you think needs to on this list, please do write it down in the comments section to help the others who can know more about this happening destination.